Paired with the features you know and love...
A holistic view of safety
Our Safety Climate Survey has always captured the breadth of the safety experience within an organisation, but we know there is always room for improvement. We have evolved our approach and philosophy to be about more than just the reduction of harm. Our focus is on using safety to improve the quality of life for individuals and, consequently, greater efficiency and operational success for organisations. We call this approach Positive Safety.
Positive safety is about focusing on proactive safety controls and genuine, helpful attitudes that can guide organisations to create a culture of trust, growth and excellence that leads to safer results.
Positive safety addresses the physical, social and psychological aspects of safety, resulting in an environment that supports each individual to bring the best of themselves to work.
The Safety Culture Maturity Model
Utilising our Safety Culture Maturity Model, we work alongside
organisations as they journey towards safety culture maturity and the goal of safety Citizenship.
In organisations with a mature safety culture, leaders consider the safety of the whole person and people genuinely buy into safety. People see safety as a personal value and actively choose to follow safety procedures – not because they have to, but because they want to. People see safety systems as tools that add value to their jobs, rather than as barriers that make work difficult.
Relationships are characterised by high trust and mutual respect, with a common understanding around how safety helps everyone to return home safe at the end of every day.
Safety is a precondition of doing business, fostering a willingness to go above and beyond minimum role requirements to help others and, more broadly, contribute to the organisation's safety goals.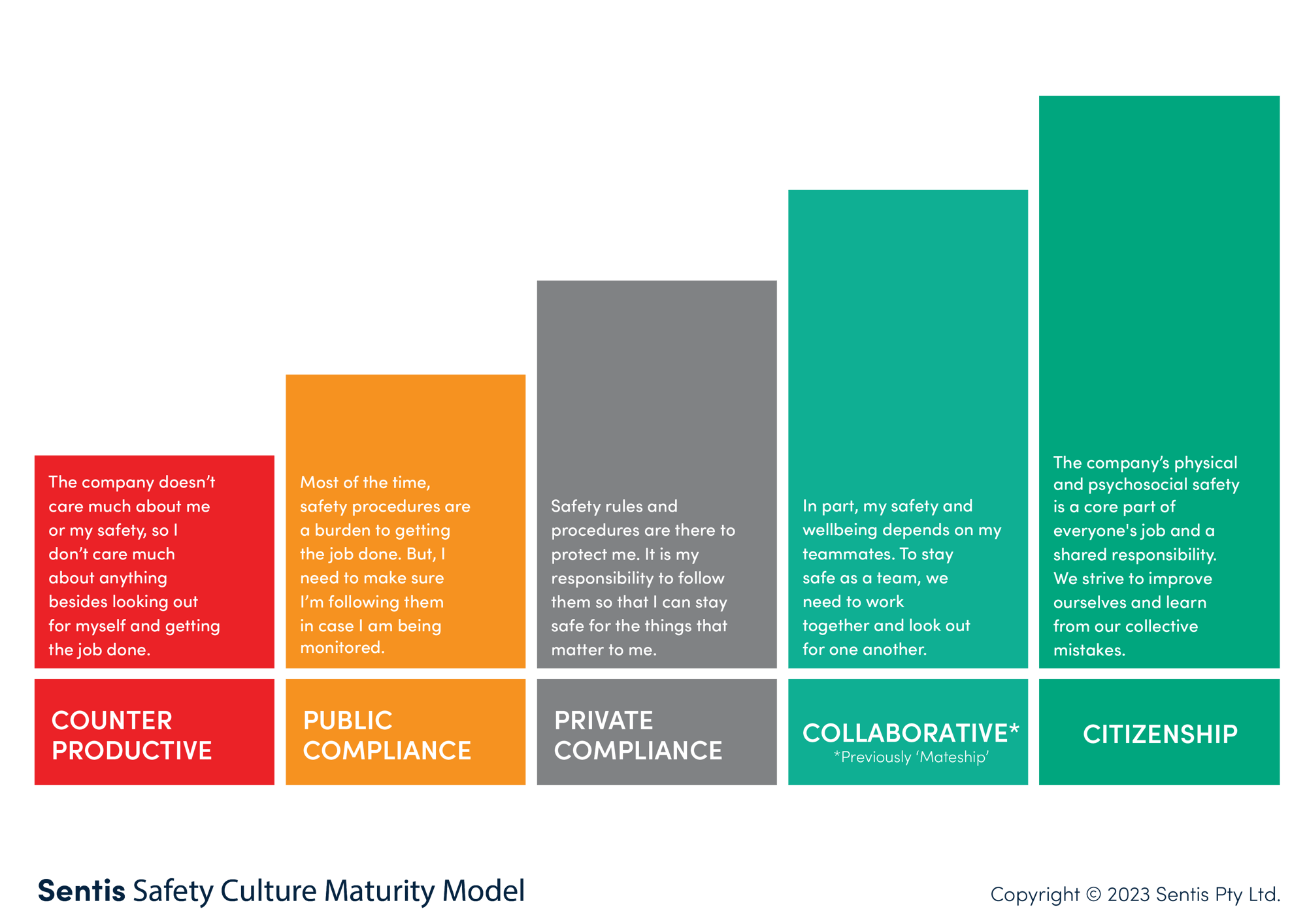 Want to know more?
Our safety experts are happy to answer any questions you may have, whether you're interested in learning more about the updates to our Safety Climate Survey or wanting to know more about the right diagnostic choice for your business.
Simply complete the form below and one of our friendly team will be in touch.